Deccan Gymkhana has decided to help the victims of the flood by means of financial assistance in the Raigad & Ratnagiri districts.
As an initial help, Deccan Gymkhana is sending 125 sets of Blankets, Bedsheets, Chatai, and Towels immediately.
In addition, Deccan Gymkhana Appeals to all its members to take initiative and help the flood victims by financial means as much as they can.
 You can donate the amount on the below-mentioned account –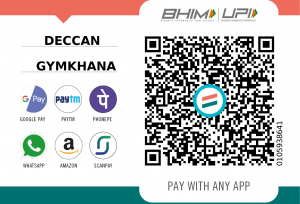 Name:- Deccan Gymkhana
Bank:- Kotak Mahindra Bank
Bank A/c No.:- 4813226831
Branch :- Bhandarkar Road, Pune.
IFSC Code :- KKBK0000723
Kindly note that please forward the payment details to deccangymkhana@gmail.com for generating the receipts.
Your help will be handed over to the "Rashtriya Swayansevak Sangh Janakalyan Samiti, Konkan Prant Seva Vibhag" 
Deccan Gymkhana Office
डेक्कन जिमखान्याने चिपळूण येथील नैसर्गिक आपत्तीत जी मदत पाठवली त्याच्या विनीयोगाचा सविस्तर अहवाल आला आहे.
आपल्या सर्वांच्या सहयोगाने हे शक्य झाले. आपल्या डेक्कन जिमखाना संस्थेला हे भूषणावह आहे.
तरी, सर्व सभासदांच्या माहितीसाठी सदर अहवाल खालील प्रमाणे सादर करत आहे. 🙏