Election Programme - Triennial General Election 2021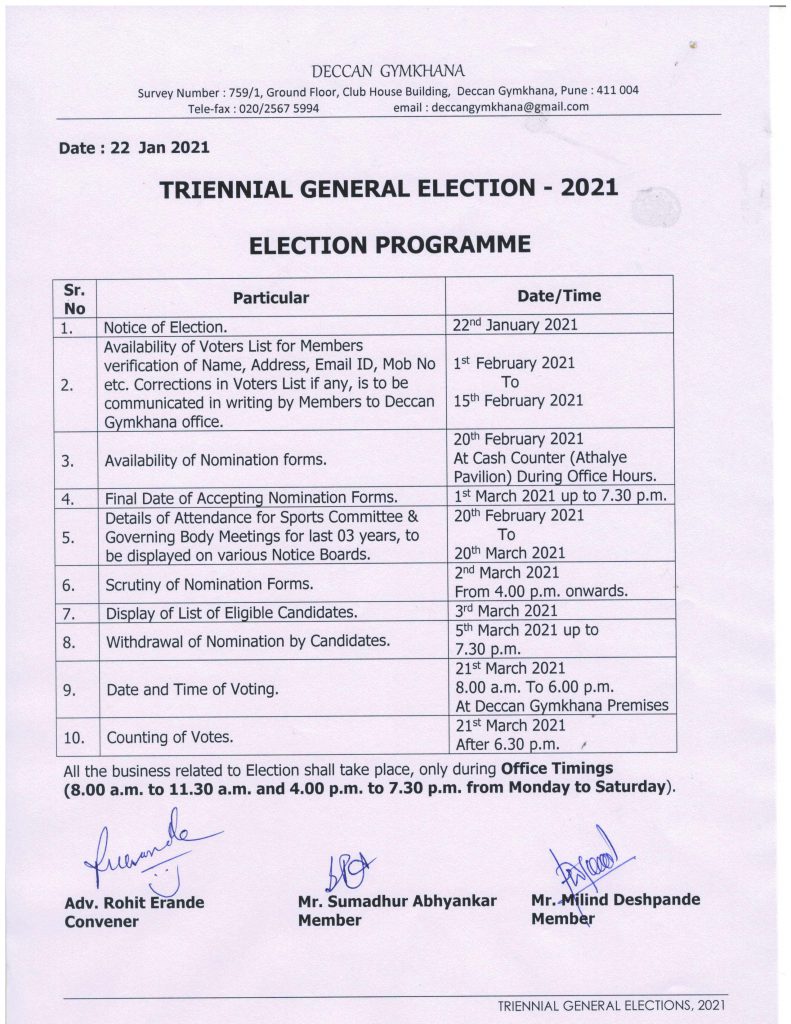 Restaurant & Bar Open at Deccan Gymkhana
Jogging Track, Tennis Open at Deccan Gymkhana
The Jogging Track will be open for use from 5.30 am to 8.00 PM from tomorrow 18 September 2020 for HLM, Life Member, Permanent Member and Add-on Members & Temporary Members only.
Tennis Court Bookings and Sessions can be booked or enquired at Cash Counter on 9370077144.
The following points will be strictly observed :-
Entrance only from the Main Gate with Membership card.
Use of facility at Members Risk.
The Jogging track time shall be from 5.00 AM to 7.00 PM daily.
Batch will start at 5.00 am and subsequently 6.00 am,7:00 am onwards. Each batch will be permitted a maximum time of 50 minutes, and 10 minutes for the changeover. Members must leave the DG premises once the batch is over.
Only 50 Members, Batch wise, at a time will be allowed on the Track.
Members are requested to follow all Government norms like wearing of Mask, Social distancing etc.
As per the Government directives children below 10 years and members above the age of 65 will not be permitted.
Members are requested to co-operate.
Annual Membership Renewal for the year 2020-2021
Dear Member,
Please review revised Fee Chart for Annual Membership Renewal for the year 2020-2021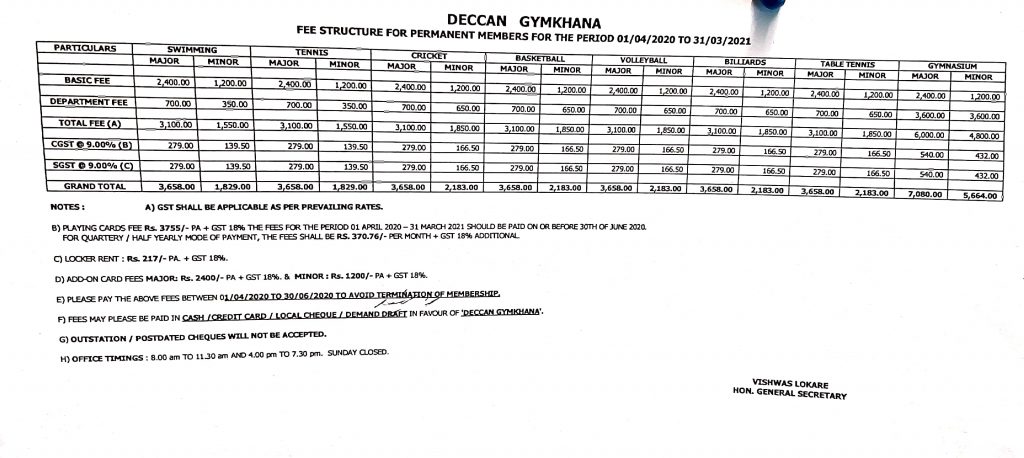 DECCAN GYMKHANA - SHUTDOWN TO PREVENT COVID 19
All the members are of Deccan Gymkhana are hereby informed that all the activities and entire premises of Deccan Gymkhana including Tilak Tank are closed till further notice with immediate effect as per orders received from District Collector due to Covid 19 issue.
Members are requested to take a note of the same and co-operate.